Bigwood Roofing Limited are proud to cover all your roofing needs and are also your local specialist in Flat Roofing Systems

Bigwood Roofing cover all aspects of roofing and can provide the following flat roofing systems:
Single ply
Why use Singly Ply?
Singly Ply is by far the most modern product available offering in excess of 20 year guarantees but with a lift expectancy that far exceeds that. This system is quick to use and cost effective, installed using hot air welding techniques with mechanical fastenings or adhesive bonding to provide solutions that are durable, resilient to the natural elements and give excellent fire resistance. The quality of your product and experience of your roofing team is paramount to ensuring a successful project.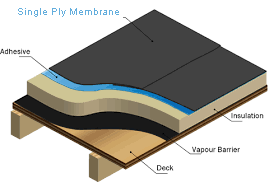 There are a selection of Single Ply Products available including Alwitra (A VET Product), Flag Soprema and Sarnafil, which are both PVC membranes.
VET – Vinyl ethylene terpolymer
VET consists of PVC made flexible by blending with Ethylene Vinyl Acetate (EVA). VET can be heat or solvent welded and is compatible with bitumen.
PVC – Polyvinyl chloride
A flexible form of PVC due to the addition of high molecular weight plasticizers, which can be heat or solvent welded (depending upon the product). PVC-p-based membranes are generally not suitable for direct contact with bitumen unless a suitable weight of fleece backing is incorporated to separate the two.
---
EPDM Rubber
Why use EPDM?
EPDM rubber systems are a cheap and reliable product, great for garages and extensions, providing a 20 year guarantee.
EPDM – Ethylene Propylene Diene Terpolymer
EPDM is a naturally flexible material to which carbon black is added for stability. Jointing is normally carried out with tape bonding using a special primer, but adhesives can also be used.
---
Green Roofs
Why choose a Green Roof?
A magnificent eye catching and modern touch, having a garden for a roof is a great eco friendly option. This can be applied on top of most of the systems listed above but is best suited on a single ply system as they do not allow root penetration.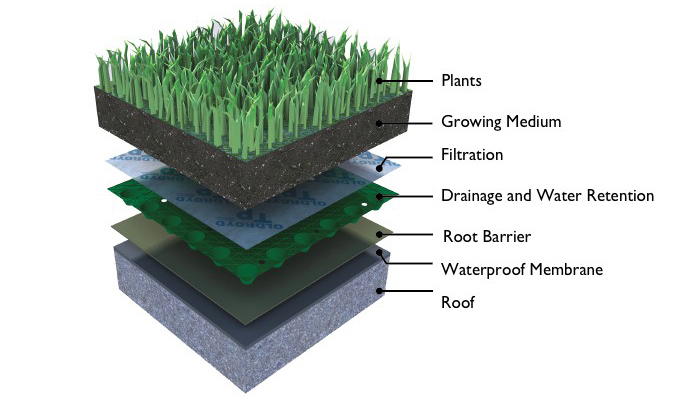 ---
Felt. The traditional flat roofing solution that has been tried and tested over many years. Still a very popular option with guarantees circa 15 years.
GRP and Liquid applied systems. The great solution for balconies or areas with a heavy foot traffic. Also ideal for roofs with tricky details. Guarantee for 20 years can be provided
We can also provide warm roof systems to comply with new building regulations.
We are also proud to provide services in the following:
Pitched Roofing (Tile or Slate)
Fascias, Soffits and Guttering (UPVC, aluminium or steel)
Chimney repairs/dismantles